This article explains step by step how to analyze the profile data.
Chart
The profile chart gives a color-coded overview of the different gradient ranges of your workout.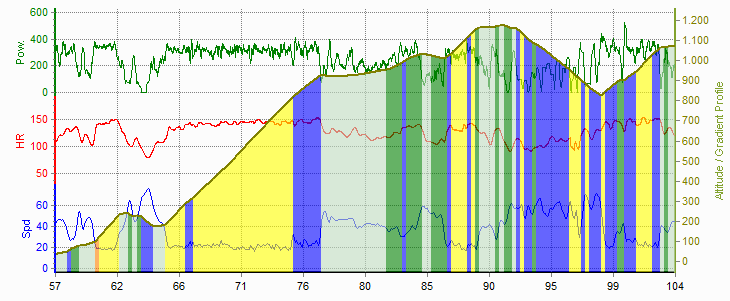 You can see the color-coded legend of the gradient ranges at the right side of the chart.

Table
The profile data table gives a comprehensive overview of all the gradient ranges of your workout with an indication of the total duration, distance and total elevation of each gradient range. This table allows you to see the relation between the gradient and the reaction of your body on the gradient changes.


Interpretation
Study of the profile analytics creates a number of interesting questions. Eg.
What is the role of the cadence?
Which cadence with the same power ouput gives the lowest heart rate (lowest cardiac stress).
What is my favorite natural climbing cadence?
Does any change in cadence infuence my speed uphill?
How is my heart rate behaviour when selecting a higher cadence?
What is my favorite gradient looking at power and speed at maximum steady state?
What is the highest efficiency of my body for a given cadence and heart rate?
...